Try the latest dream league soccer kits sporting CP 2023-24. Congratulations on finding the right platform to import your favorite dls kits from the official URL's. Here you can download all of your favorite kits for free! Sporting cp is a Portuguese professional sports club in Lisbon. It is simply known as sporting or sporting lisbon that has a famous nickname called as "Leões" (Lions).
The sporting club de portugal has an interesting collection of dls kits for its team such as home kit, away kit, third kit and the goalkeeper kits. Below we have provided each and every kits URL separately to make it simple and easy to download. Let's have a look!
Sporting CP DLS Logo 2023-24
The sporting lisbon club's crest stands out with its unique design, boasting the lettering "SPORTING PORTUGAL" and a lion at the center. Another logo that catches attention is the logo sheffield united dls, symbolizing their rich footballing heritage. Both these logos can be tailored for dream league soccer kits. Access the official logo sporting dls in 512×512 size from the provided link and enhance your gaming experience.
https://imgur.com/a/ktS9SPz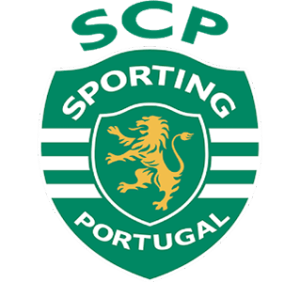 Sporting CP DLS Home Kit 2023-24
Sporting cp dream league soccer home kit was recently unveiled Featuring green and white hoops with thin green line in between. V-shaped collar in black gives an attractive look for the kit. Black shorts and white socks will complete the latest home kit dls sporting lisbon 2023.
https://imgur.com/26BkEoL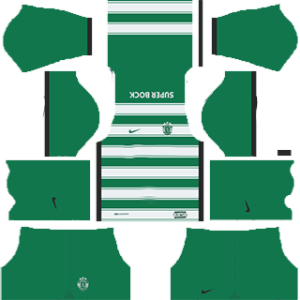 Sporting CP DLS Away Kit 2023-24
The new Sporting DLS away kit was recently released for the upcoming Primeira Liga, sporting an intriguing black and volt green color scheme with a distinctive hooped pattern. The complete kit, comprising a jersey, volt shorts, and black socks, embodies a bold and energetic look. Alongside this, we're excited to share that the latest Dream League Soccer logo for RB Leipzig is also now available, adding an additional emblem to enhance your gaming aesthetics. You can download both the Sporting Lisbon Dream League Soccer 2023 away kit and the RB Leipzig DLS logo using the provided URLs.
https://imgur.com/a/grDE2WB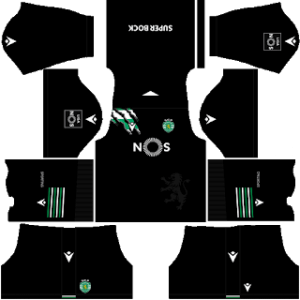 Sporting CP DLS Third Kit 2023-24
Check out the new third kit for Dream League Soccer (DLS) Sporting Lisbon 2023, featuring an all-over graphic pattern in white and grey that resembles a chess board. This kit comes with a white V-shaped collar jersey paired with green shorts and white socks. Alongside this stylish kit, we're excited to unveil the new DLS Inter Miami 2023 logo. This emblem, embodying Miami's vibrant football scene, can further personalize your gaming experience. Get these exciting additions for your team today!
https://imgur.com/a/YUcyOGS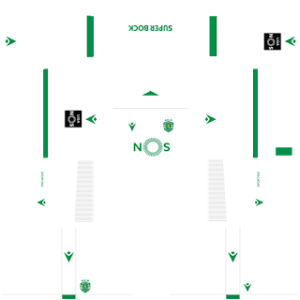 Sporting CP DLS Goalkeeper Home Kit 2023-24
The new sporting lisbon goalkeeper kits are now available for the season 2023-24. These gk kits are especially designed for the goalkeeper in team. You can import the beautiful Gk home kit sporting lisbon dream league soccer 2023 using the given URL here.
https://imgur.com/kQq8A12

Sporting CP DLS Goalkeeper Away Kit 2023-24
The sporting cp gk away kit is used when the match is held in another country or state. The kit has an excellent design with the club's logo on it. Get this classic goalkeeper away kit dls sporting lisbon 2023 for your dream team today!
https://imgur.com/WbS5im0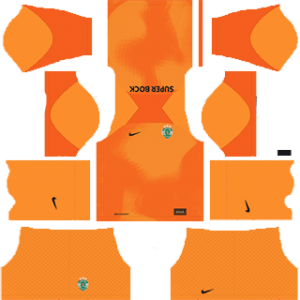 Sporting CP DLS Goalkeeper Third Kit 2023-24
You shouldn't miss out on this latest goalkeeper third kit dls sporting lisbon 2023. The kit looks decent and attractive on your dream team. Get this new gk third kit by clicking the given URL and let your team catch people's eye while playing the match.
https://imgur.com/2FrFTR5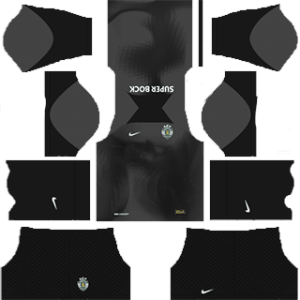 Final Words:
Would you like more of Dream League Soccer kits for other teams? Perhaps the Jersey Arema DLS, which represents one of the most popular football teams in Indonesia? Just take a few seconds to drop your message in the comment section below. We will make it available for you as early as possible! Thank you for visiting our website. Keep sharing and supporting us!