Greetings to all the soccer aficionados out there! Today we are introducing the fresh "Cerezo Osaka DLS kits and logo" for the 2023-24 season. This Japanese club, which participates in multiple tournaments, has a large fanbase, particularly because of its impressive squad. The official name of the club is Cerezo Osaka (セレッソ大阪), and it's known by several nicknames, much like the Bayern Munich team. The club's most common nickname is "Sakura". Cerezo Osaka, founded on May 3, 1957, has a rich history of 66 years. If you're a Dream League Soccer player, you might be a fan of Cerezo Osaka for their impressive lineup.
Cerezo Osaka DLS Logo 2023-24
The Cerezo Osaka Dream League Soccer logo is unique and colorful. The club's name is inscribed in the logo, which features a cherry blossom, reflecting the club's name ("Cerezo" is Spanish for "Cherry"). The Cerezo Osaka Dream League Soccer club participates in the J1 League. The size of the logo is 512*512.
https://imgur.com/a/RbjbVMc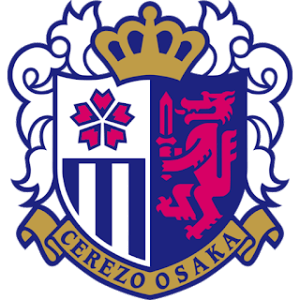 Cerezo Osaka DLS Home Kit 2023-24
The home kit of Cerezo Osaka is simply magnificent. The primary color of the club's home kit is pink, reflecting the cherry blossom theme of the club. The kit features sponsor logos and is designed in a similar fashion as the Bayern Munich home kit.
https://imgur.com/TGLUOhP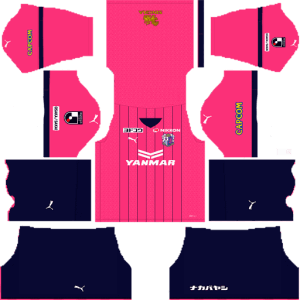 Cerezo Osaka DLS Away Kit 2023-24
The Dream League Soccer Cerezo Osaka away kit is truly a marvel, featuring a dark blue and white design and sponsorship by Puma, a renowned athletic wear multinational. If you're also interested in other team kits, the Kit Cruz Azul Dream League Soccer 2023 is another fantastic option to consider. It offers a unique style, adding variety and a fresh look to your Dream League Soccer experience.
https://imgur.com/dy0V9qe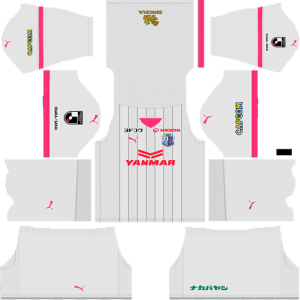 Cerezo Osaka DLS Third Kit 2023-24
The third kit stands as an alternate option for the club, bringing variety and style to the field. Dominated by a sleek black color and contrasted with light pink accents, this Cerezo Osaka kit is as stylish as it is unique. Our kit is sponsored by Yanmar, a prominent Japanese diesel engine manufacturer with a vested interest in the club. We've also incorporated elements from the Galatasaray DLS kit design, infusing a Turkish football sensibility into our Japanese kit, further solidifying our global football connections.
Cerezo Osaka DLS Goalkeeper Home Kit 2023-24
The Goalkeeper DLS Cerezo Osaka home kit is quite appealing. The GK kit is always different and unique compared to the team's regular kits. The color of the GK home kit is neon green, with a few black stripes.
https://imgur.com/wmPqUAm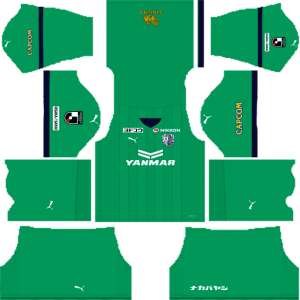 Cerezo Osaka DLS Goalkeeper Away Kit 2023-24
The Cerezo Osaka Dream League Soccer GK away kit makes a bold statement on the field. Its dark blue color is highlighted with pink vertical lines, creating a vibrant contrast. To bring a global touch to our kit, we've subtly incorporated elements of the logo from Dream League Soccer's Vissel Kobe, another iconic club of the J1 League. This fusion of Osaka and Kobe elements represents a unity in Japanese football and a celebration of our shared heritage.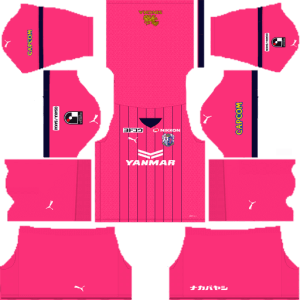 Cerezo Osaka DLS Goalkeeper Third Kit 2023-24
The GK third kit of Cerezo Osaka DLS club is an eye-catcher. The kit features a vibrant orange color with black accents, creating a bold contrast. The sponsor's logo is also featured on the kit.
Final Words:
We hope this guide aids soccer enthusiasts in finding the latest Cerezo Osaka DLS kit URLs and customizing their team kits. We welcome your thoughts on this article and any feedback or suggestions you may have. Please leave them in the comments section below. Enjoy your Dream League Soccer experience with the new Cerezo Osaka kit!